Places Mihai Has Committed Code From
I've been running lolcommits for 10 years, corresponding to most of my time at Quip and all of it (so far) at Tailscale. It captures a picture whenever there's a Git commit, and stamps it with that commit's SHA and message.
Of the 22,000+ images, here are some notable(-ish) things that it captured (locations were determined with the help of Swarm).
2013
2013-01-11 - First Recorded Commit
This was in Quip's second office (a Regus suite).
2013-01-11 - Caltrain Commit
Back when there were such things as "commutes", I would take Caltrain to/from work. The fact that all of Quip ran on a laptop and didn't need any connectivity was key to feeling productive in the ~2 hours a day spent on the train.
2013-01-14 - Caltrain Platform Commit (Morning)
One of the perils of taking Caltrain is missing it (and having to wait 30 minutes for the next one). Luckily the weather usually allows for outdoor coding too.
2013-01-15 - Co-workers
The main room at Regus was pretty cramped, you can see Jon and Casey in the background.
2013-01-22 - First WFH Day
Looks like there might have been a haircut too.
2013-01-24 - Unattended Commit
Or possibly a pre-commit hook that took so long I stepped away.
2013-02-04 - WFJon's House
Our new office was not quite ready before we had to leave Regus, so Jon graciously let all of us work from his house.
2013-02-05 - First Warfield Commit
Our second office was above The Warfield. You might be able to live there some day.
2013-03-15 - Caltrain Platform Commit (Evening)
Sometimes I would need a couple of extra minutes to wrap things up for the day, and end up doing it on the platform after I got off the train.
2013-04-04 - Lead Paint Scare
Two months after we moved in, the contractors realized that they had never tested the ceiling for lead paint (it was originally supposed to be painted over, but they then changed their minds).
We vacated the office until it was tested, and in the meantime we ended up working first from Ana/Casey's house and then from Ryan's.
2013-06-15 - Post-Midnight Coding
Quip was not a "work all the time" company even in the startup days, but there were some commits done in the dark.
2013-07-30 - Launch Day
The only time I stayed late at the office was the day of our launch, when were waiting for an embargoed New York Times article about us to be published.
2013-09-04 - Red Rock Coffee
Apparently this was the first coffee shop I worked from.
2013-12-10 - Second Holiday Party
Evening holiday parties were the only reason to wear a sweater and collared shirt to the office.
2014
2014-01-19 - Wired Earbuds
We lived like animals before Apple had courageAirPods.
2014-02-04 - Location Unknown
Unclear what happened here.
2014-03-12 - Backyard Coding
WFH, but outdoors.
2014-06-03 - WWDC
During breaks at Apple's annual developer conference.
2014-06-11 - Prolific Oven
R.I.P. I fondly remember your cream-filled Napoleons.
2014-06-19 - Eye for Detail
2014-08-19 - Bitter+Sweet
Preferred local coffee shop
2014-09-05 - Hello Sophia and Nate
2014-12-15 - Third Holiday Party
Awkwardly, the same outfit as the previous year.
2015
2015-02-25 - Start of WFH period
In the last couple of weeks before my second son was born I worked from home to avoid having to scramble once labor began. That ended up happening a couple of hours after the emoji commit, leaving it to someone else to fix the broken build.
2015-04-20 - Return to the Office
It's hard to capture sleep deprivation on a webcam.
2015-05-29 - Cupertino Library
Quiet, good WiFi.
2015-06-18 - Blue Bottle (Palo Alto)
2015-07-29 - Apple Dungeons
Matt and I spent a couple of weeks in a lab on Apple's campus to implement support in Quip for the Apple Pencil and iPad Pro support ahead of its launch. We weren't supposed to tell anyone where we were, and technically these pictures are contraband.
2015-09-23 - Medallia HQ
My wife was working there at the time, and they were providing flu shots to employees and their spouses.
2015-09-28 - Palo Alto Courtyard
A nice space next to Blue Bottle
2015-10-09 - Shoulder Surfer
One of the perils of coding on Caltrain.
2015-11-02 - Office Reshuffle
We increased the desk density a bit, hence the viewpoint change.
2015-12-15 - Fourth Holiday Party
Yes, the same outfit.
2016
2016-01-15 - Another Office Reshuffle
You can finally see the other side of the room.
2016-04-29 - Costume Day
Representing "Team Super Mario" for a "Twins/Triplets Dress-Alike" day.
2016-06-14 - WWDC
Another year, another Apple conference.
2016-07-13 - Mountain View Library
Continuing the tour of South Bay public libraries.
2016-08-05 - In A Car
It was too hot to wrap up coding on the train platform, so I did the post-commute Git push from my car (before driving).
2016-09-06 - New Office
2016-09-26 - New Laptop
We got new machines as part of the Salesforce acquisition (which closed around this time), and the camera was a bit better. You can also tell it's a slightly different lolcommit config because the quotes around the commit hash and summary are gone.
2016-12-14 - Fifth Holiday Party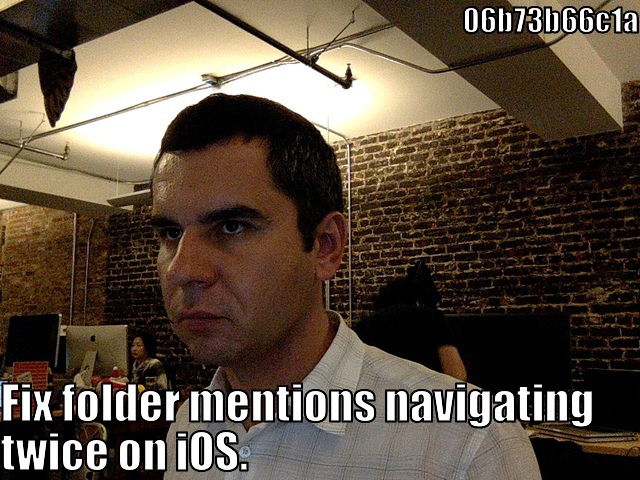 No sweater this year.
2017
2017-02-23 - Palo Alto Library
2017-03-20 - Office Reshuffle
2017-05-03 - Hello Carrot
Presumably another seating reshuffle.
2017-06-07 - WWDC
It moved to San Jose that year.
2017-07-25 - Hello Yang
2017-08-22 - Hello Jon
2017-09-22 - Abstract Art
I think this is a partially-closed laptop lid, pointing the camera at the rug.
2017-10-23 - Employee of the Month
Working from the conference room where our (joke) "Employee of the Month" portraits were hanging.
2017-11-02 - Return To The Apple Dungeons
We were back in the secret Apple lab, this time to prepare our app for the iPhone X launch. This time they made us put tape over the webcams.
2017-12-21 - Campbell Library
2018
2018-01-12 - Office Shuffle
Maximum density (and noise level) in the pre-Tower office.
2018-03-12 - Hello Namrata
2018-04-22 - WFPlane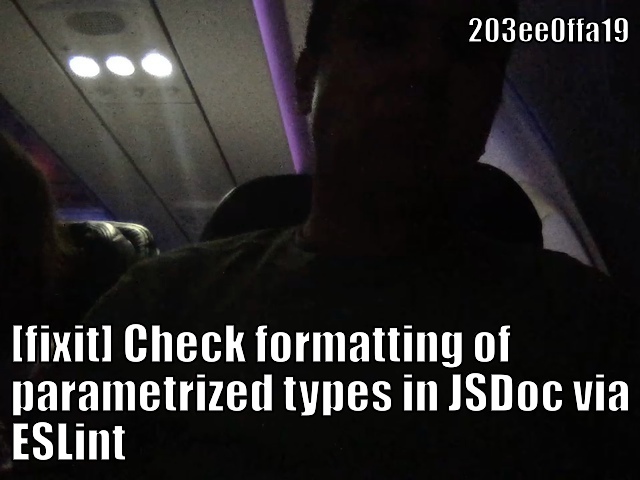 Must have been a Virgin America flight based on the lighting scheme.
2018-06-04 - Social Policy
Before the ATP live show during WWDC week.
2018-06-08 - The Creamery
We all had to leave the office early because of the impending Salesforce Tower move. This was the closest coffee shop to the San Francisco Caltrain stop.
2018-06-11 - First Tower Commit
The cleanest the windows ever were.
2018-07-05 - Vancouver Public Library
First out-of-state (and out-of-country) commit. Fun fact: Battlestar Galactica was filmed here.
2018-07-30 - Hello Pedram
2018-08-02 - Hello Diana
We were hacking together a demo before a sales conference.
2018-09-07 - Hello Claire
2018-09-14 - Caltrain Platform
The occasional Caltrain platform commits continued, this one had a particularly nice backdrop.
2018-11-28 - Hello Erik
2018-12-17 - Seventh Holiday Party
A different shirt!
2019
2019-04-23 - Backyard Brew
2019-05-03 - Red Berry Coffee Bar
I could have used a haircut.
2019-06-06 - Hello Anh
2019-06-10 - Sometimes you just need to hide in a huddle room
2019-06-26 - Farley's
2019-08-02 - Cupertino Sports Center
While the kids had their tennis lessons (we had some childcare complications that summer).
2019-10-10 - Verve Coffee
2019-10-25 - Trial Run for Halloween
We were going as the family from Calvin and Hobbes.
2019-12-04 - Eighth Holiday Party
A non-white shirt.
2020
2020-03-06 - Last Commit from the Office
2020-03-17 - First Shelter-in-Place Commit
And they've been like that ever since.
Except when they're like this.
2020-08-28 - Outdoors and Masked
Kids' activities are starting to resume
2020-12-10 - Hello Max
2021
2021-06-30 - The Start of "Mihai's R&D Summer"
I worked from Seattle for ~5 weeks, mostly on speculative projects.
2021-09-24 - Boston Public Library
2021-11-04 - Kids' Soccer Practice
2022
2022-01-26 - Kids' Swimming Practice
Seeing a pattern yet?
2022-03-26 - Working from A Plane
You can tell that it's a cramped economy seat because I can't tilt the screen back.
2022-03-28 - In-laws' House
2022-04-20 - Hello Max
While waiting for a swim lesson.
2022-04-22 - Farewell Quip
2022-04-29 First Recorded Tailscale Commit
There were a few even earlier (my first day was April 25th), but I forgot to set up lolcommits on the new laptop.
2022-05-27 - New Chair
Our backordered Womb Chair finally arrived, it's quite comfy.
2022-06-03 - Tailscale SF Meetup
While Tailscale is an all-remote/distributed company, we do have occasional meetups. This was my first time meeting my co-workers in person.
Hello Michael.
2022-06-06 - Los Altos Starbucks
When waiting for a (nearby) appointment, convenience trumps coffee snobbery.
2022-07-08 - Working from Seattle (Again)
Like the previous summer, we spent a few weeks living in Seattle, for a change of scenery.
2022-07-13 - Working from Brad's House
New city, new co-workers to meet in person.
2022-07-22 - Seattle Pacific University Library
Our house was being cleaned, and it turned out there was a nice library a short walk away.
2022-08-17 - Cancun
The whole company went on a fun trip, and some of us thought that coding too much fun to not do for a whole week.
2022-10-05 - Berkeley Co-working
Tailscale meetups cycle between San Francisco, East Bay and South Bay to load balance everyone's commutes.
2022-10-10 San Mateo Co-working
2023
2023-01-11 - Celebrating Ten Years
Maybe in another 10 years the webcam quality will actually improve.
1995
1995-??-?? - Scanning Something
To make a HyperCard stack.